Speed, Strength, Injury Prevention, and Longevity in Martial Arts Through RFST
$30.00
Kick Higher, Hit Harder, Feel Better! Speed, Strength, Injury Prevention, and Longevity in Martial Arts Through Resistance Flexibility Strength Training with Olympic and Pro Athlete Trainer Cat Fitzgerald
In stock
Description
Strength and Flexibility with Cat Fitzgerald
Saturday, October 28th, 2023 from 9-10:30AM, $30pp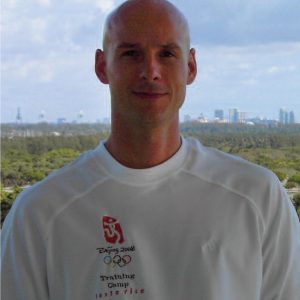 Movement Specialist Cat Fitzgerald leads a 90-minute Resistance Flexibility Strength Training workshop Oct 28th 9-10:30am, 2023. 
He has trained Olympic medalists and Professional athletes and been personally credited as "…[my] secret weapon to setting my world record" by 13-time record setting Freediving Champion Martin Stepanek.  
Workshop will specifically focus on the strength and flexibility necessary for the roundhouse kick and how to develop those qualities through exercises that are just as valuable for non-martial artists.  
Participants will walk away with: 
A stronger, faster, roundhouse kick with less effort

 

Quantitative and Qualitative results in body movement by end of session

Partnered and solo workout techniques

 

A training method for improvement and longevity in your physical endeavor

Range of motion vs flexibility

 

Workout recovery methods

 

Injury prevention and recovery

 

Why traditional methods of training may be the problem.
About Cat Fitzgerald and Resistance Flexibility Strength Training (aka Meridian Stretching)
Some Facts About Flexibility and Stretching
True Flexibility is Permanent and Cumulative.
Your Athletic Peak is between the ages of 35 and 45.
True Flexibility prevents Injury.
Most people do not know how to stretch properly and end up doing more harm than good!
What Olympic and Pro Athletes are saying about their training with Cat:
"Cat introduced me to one of the most powerful training tools available to an athlete: RFST. It is the missing link we've all been looking for. I cannot recommend Cat enough to athletes and health enthusiasts across the board!"   –Nikki Roderick, Silver Medalist, 2009 World Freediving Championships, National and Continental Record Holder
"With RFST, Cat helped me regain vitality from depleted adrenals and heal past overuse injuries. I recommend his work to everyone, including high profile Athletes of all sports!"    –Catherine Garceaux, 2004 Olympic Medalist Synchronized Swimming
Cat's clients also include:
Martin Stepanek, 13-time World Record Holder, Freediving
Christophe Ribot, Owner and Founder of Miami KiteBoarding
Nelson Phillippe, Indy Car Race Champion
Sofia Bekatorou, Greek Sailing Champion and Olympic Medalist
Michael Gebhardt, Olympic Medalist and Winningest Professional Windsurfer
and a host of Martial Artists, Rock Climbers, Tennis Players, Olympic Swimmers, X-Games Medalists, Dancers, and more–hobbyists and Amateur, Olympic, and Pro Athletes!